CX-30
Mazda CX-30 2023
Price and specs in Qatar
Est arrival: Coming soon
For more information
Contact us
Mazda CX-30 Price & Specifications in Qatar - 2023
Mazda CX-30 2023 is a compact crossover with a premium appeal, offering great fuel economy, high-quality cabin materials, and elegant design. The engine produces 153HP of power and 200NM of torque, and the fuel tank capacity is 48L. With 1795mm of width, 4395mm of length and 1540mm of height, Mazda CX-30 2023 is priced within the range of QAR 90,000 and QAR 100,000.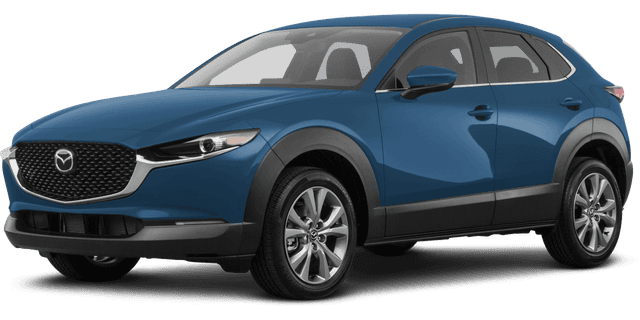 It has all the base variant features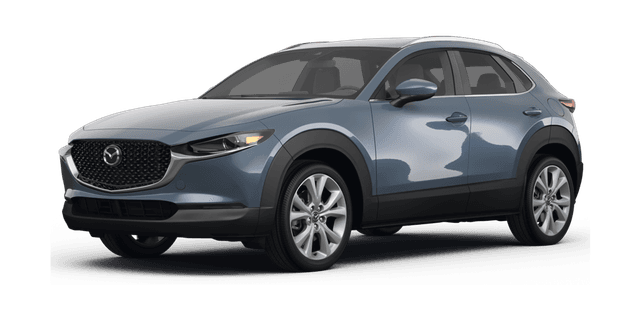 All the base variant features, plus:
Chrome grille

Adaptive front light system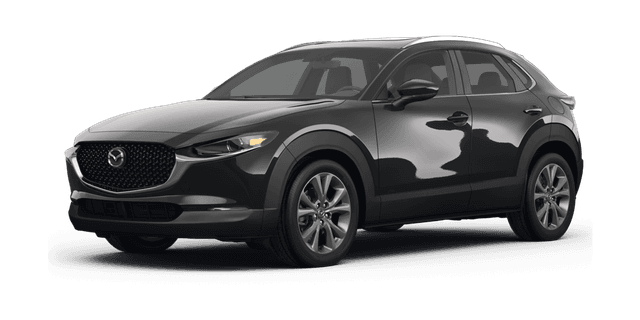 It has all the base variant features, plus:
Leather seats

Power boot

Led DRL
Mazda CX-30 Mazda CX-30 2023 Interior and Infotainment
Mazda CX-30 2023 has important safety and driving features, such as dynamic stability control, traction control, electric parking brake with auto brake hold, blind spot monitoring, rear cross traffic alert, ISOFIX child seat anchors, brake override system, burglar alarm and airbags (dual front, side, curtain, and a knee airbag for the driver). The interior brings sunroof, Apple Carplay®, 8 Mazda Harmonic Acoustics speakers, Bluetooth connection, auto rain sensing wipers, power windows with one touch system for all windows, rear camera and parking sensor.
Car final Review
If you want a dynamic and feature-equipped crossover for daily usage in the city, this is the one. Mazda CX-30 2023 is a premium urban car that draws the attention due its interior and exterior design, but does not forget about the safety and comfort. The vehicle ensures a pleasurable driving experience thanks to its amount of features, such as the advanced electronic stability system. The possibility to fold the seats and get more luggage space is a plus, along with the good fuel economy.
Choose the right plan for you
Monthly plans
Get a car on a shorter monthly basis
Learn More
Dealership certified cars
Easy monthly payments
No salary certificate
Affordable one-time starter fee
Fully digital subscription process
View inventory
Subscribe to Own
Buy a car with zero loan and no interest.
Dealership certified cars
Easy monthly payments
No deposit
Swap, pause or cancel anytime
Fully digital subscription process
Only in Saudi Arabia.
Frequently asked questions about Mazda CX-30
What are the color options available in Mazda CX-30 2023?

Mazda CX-30 is available in 8 colors: Jet Black, Sonic Silver, Snowflake White Pearl, Soul Red Metallic, Deep Crystal Blue, Machine Grey, Polymetal Grey, Titanium Flash.

What is the cargo capacity of Mazda CX-30 2023?

What type of engine and transmission does the 2023 Mazda CX-30 have?

Mazda CX-30 2023 is equipped with a 2.0L Inline-4 engine, paired with an automatic transmission.

Why are the advantages of leasing a Lexus RX instead of buying it?

Benefits of leasing usually include a lower up-front cost, lower monthly payments compared to buying, and no resale hassle.

Are the prices on the website the total that I am going to pay?

The price you see in the website includes VAT and all the fees associated with having a car. The only fees you will pay separately from this include fuel, parking, toll fees, and any traffic fines you may incur during your subscription.
invygo Tech FZ LLC | info@invygo.com